COVID-19 Business & Non-Profit Relief Resources
Click Here to Sign-Up for Disaster Assistance from the City's Economic Development Division
The U.S. Small Business Administration (SBA) is working directly with state Governors to provide targeted, low-interest loans to small businesses and non-profits that have been impacted by the Coronavirus (COVID-19). The SBA has several programs to support businesses and business owners as they navigate the COVID-19 crisis.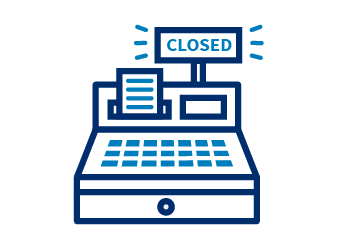 Updated PPP Information
New Changes Announced for the Paycheck Protection Program
Steps to Promote Equitable Relief for Mom-and-Pop Businesses
Building on a month of strong results, the Biden-Harris Administration and the U.S. Small Business Administration are taking steps with the Paycheck Protection Program to further promote equitable relief for America's mom-and-pop businesses.
The latest round of Paycheck Protection Program funding opened one month ago and already the Biden Administration has succeeded in making major improvements to the program's implementation:
For businesses with fewer than 10 employees, the share of funding is up nearly 60%
For businesses in rural communities, the share of funding is up nearly 30%
The share of funding distributed through Community Development Financial Institutions and Minority Depository Institutions is up more than 40%
These simple progressive steps by the Biden-Harris Administration further demonstrate the commitment to racial and gender equity, reaching low and moderate-income, rural, urban, and other underserved areas.
The SBA will:
Establish a 14-day, exclusive PPP loan application period for businesses and nonprofits with fewer than 20 employees. Counting employees: Each employee counts as one, regardless if full-time, part-time, or seasonal. The 14-day exclusivity period will start on Wednesday, February 24, 2021, at 9 a.m. EST.
Allow sole proprietors, independent contractors, and self-employed individuals to receive more financial support by revising the PPP's funding formula for these categories of applicants
Eliminate an exclusionary restriction on PPP access for small business owners with prior non-fraud felony convictions, consistent with a bipartisan congressional proposal
Eliminate PPP access restrictions on small business owners who have struggled to make federal student loan payments by eliminating federal student loan debt delinquency and default as disqualifiers to participating in the PPP; and
Ensure access for non-citizen small business owners who are lawful U.S. residents by clarifying that they may use Individual Taxpayer Identification Number (ITIN) to apply for the PPP.
The 14-day exclusivity period will start on Wednesday, February 24, 2021, at 9 a.m., while the other four changes will be implemented by the first week of March.
The SBA is working on the program changes and will communicate details throughout this week.
These actions will help to lay the foundation for a robust and equitable recovery for small businesses across the country. Small businesses employ nearly half of the American workforce; they create 2 out of 3 net new private-sector jobs; they reinvest 68% of revenues to build and sustain communities. Borrowers can apply for the Paycheck Protection Program by downloading the First Draw PPP loan application or Second Draw PPP loan application and working with a participating PPP lender through the SBA Lender Match tool.
Through SBA's nationwide district offices, the Agency will work in close partnership with the Administration to further leverage its resource partner network and expand on multilingual access and outreach about the PPP. Updated PPP information, including forms, guidance, and resources is available at www.sba.gov/ppp and www.treasury.gov/cares.
Biden-Harris Administration Increases Lending to Small Businesses in Need, Announces Changes to PPP to Further Promote Equitable Access to Relief:
Resources | For Businesses
2nd Round Paycheck Protection Program (PPP) – The original Paycheck Protection Program closed for applications on August 8, 2020. On December 27, 2020,President Trump signed the Economic Aid to Hard-Hit Small Businesses, Nonprofits, and Venues Act (the Economic Aid Act) (Pub. L. 116-260) into law to provide continued assistance to individuals and businesses that have been financially impacted by the ongoing coronavirus pandemic. This law authorized SBA to open a second draw of the Paycheck Protection Program for qualifying businesses. On January 6, 2021, SBA released Interim Final Rules as guidance on the program. Paycheck Protection Program (PPP) will re-open the week of January 11 for new borrowers and certain existing PPP borrowers. To promote access to capital, initially only community financial institutions will be able to make First Draw PPP Loans on Monday, January 11, and Second Draw PPP Loans on Wednesday, January 13. The PPP will open to all participating lenders shortly thereafter.
Disaster Assistance for Small Businesses
City of Jackson's Small Business Development Center (SBDC)
The SBDC is providing guidance on the SBA application process.
Email mdavis@jacksonms.gov or call (601) 960-1993 to be connected directly with a Business Counselor: Register for SBDC services.
Resources | For Employers & Workers
Resources | For Artists & Organizations
Economic Injury Declaration
The Mississippi Emergency Management Agency (MEMA) is gathering information on the economic loss to small businesses throughout the state as a result of the COVID-19 outbreak. This information is being collected so that Mississippi may request an Economic Injury Declaration from the Small Business Administration to aid in the economic loss suffered as a result of the COVID-19 event.
Small business owners can access instructions to complete the worksheet showing that their business has suffered economic hardship as a result of the response efforts of the COVID-19 event. After business owners complete these worksheets, they can submit them directly to the MEMA State Coordinating Officer Todd DeMuth at tdemuth@mema.ms.gov, for inclusion into the SBA declaration request.
Additional Resources
You can find more information by visiting: